About Me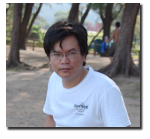 I received my bachelors' degree in Computer Science from the University of Regina Carmeli back in 1999, and my masters in Library and Information Science from the Louisiana State University in 2002.
I've been using PHP for several years now and most of my projects were for the Sterling Municipal Library website. As a Houston Area Library Systems (HALS) consultant I also developed the website for the Chambers County library system. My development work included creating simple feedback forms and creating projects that uses Amazon API and Google services. For datagrid functionality, components from the Zebra Framework were used. The projects are still in use at http://www.baytownlibrary.org and http://chambers.lib.tx.us, as of December 27, 2009.
I prefer to use Linux for development, although I always make sure to keep myself updated with the latest stuff on Windows. I'm currently using Ubuntu 9.10/Windows XP at work and Windows 7 Ultimate on my netbook, Windows Vista/Ubuntu 9.10 on my desktop PC.
Or sometimes even when I'm using Windows I'd setup a virtualbox LAMP server and use that for testing while coding in windows.
Currently I'm based here in the Philippines and I work for an online printing company that's based in the US and outsource most of their PHP development here in the Philippines. We use Zend Framework for the web site content management system and for in-house apps, such as managing orders and contents uploaded on the site portal.
Check out my portfolio section for a list and demo of some my previous works.
My online resume http://herbertbalagtas.emurse.com/